Hobby Streak Day 40 – Eldar Dark Reapers Stripped and Scrubbed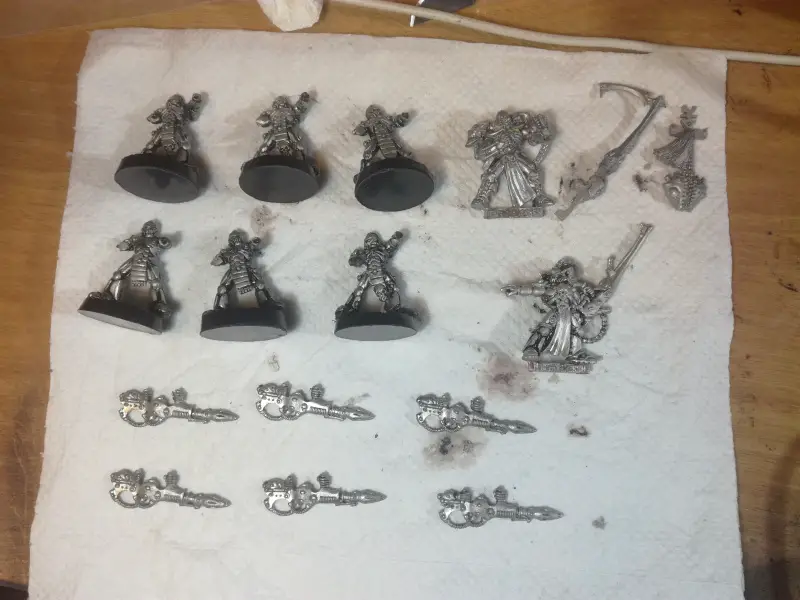 Today I pulled out and scrubbed up some old metal Eldar Dark Reapers and Pheonix Lord Maugan Ra from their paint stipping bath. They had been stewing in there for some time but they do not get really clean until one takes them out and scrubs them off with an old toothbrush. I dried them off with paper towels too. I used dettol to dissolve the paint so it is important to get it all off before letting any water touch them. Who knows the reaction but dettol, paint residue and water produces an ugly sticky gunge that is very unfun to remove. Scrub off the paint, pat down the excess with paper towels and then leave to dry for a time is the way.
They were of course ebay rescues and I was pleased as punch to get them even with their awful paint jobs. The pre-owned market is often a source of bargains as well as old treasures but that is especially true when sourcing Eldar Aspect Warriors. Fellow Craftworlders will know that almost all the stock of new Aspect Warriors are in Finecast, or failcast as it is known. It is no fun paying around £5 per infantry model at any time, but still more unfun when it is cast in such an abysmal material. Well they are probably a bit cheaper at Element Games. Thankfully the supply of study old metal models on ebay offers a better source, even if it takes a little stripping to get them usable.